Abriachan lies between Drumnadrochit (4miles) and Inverness(9miles) on the A82. (Do not take the first turning marked Abriachan – only 1 mile from Inverness.)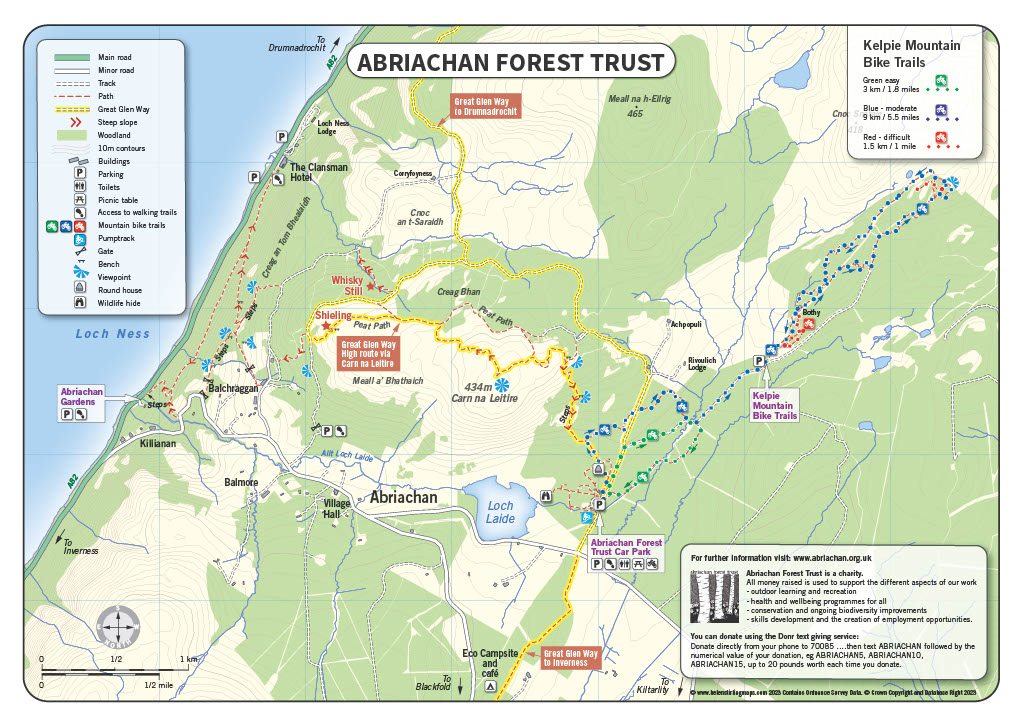 There is an invaluable lay by on Loch Ness side, use it to turn up the steep hill past the Village Hall. If you pass Abriachan Gardens or Clansman Hotel you've gone far too far!
From the South turn right into this turning point and approach the steep hill up to the village by crossing the A82. The sign posts will guide you.
From the North there is a right turn across the A82.
The village hall is on the right side of the road once it levels off – about 1 mile up from the A82.
If you are coming via Beauly/Kiltarlity/Foxhole the hall is on the left beside the old school and postbox just before you start dropping down the hill to Loch Ness.
A defibrillator is located outside the main door.
Abriachan Forest Trust classroom in the main trailhead carpark is west of Loch Laide.
Grid Reference : NH540 354 Classroom phone number : 01463 861236
To get there uphill from the hall – travel past the hall 100m , take the left fork signposted Abriachan Forest Walks and keep going, passing Loch Laide on your left. Then two fields past the Loch, take the forest road on the left and the carpark is 400m on the left.
A defibrillator is located outside the main door.
The small fank carpark, with paths leading uphill then east-west across the hill to the classroom carpark is 2.5km from the main trailhead carpark